TEGARA 5 550V CNC Premium Milling Vise 0.0004 NO SWIVEL BASE NEW R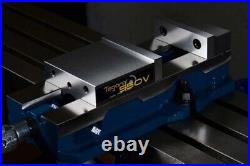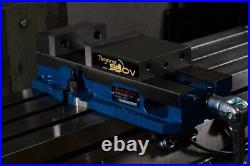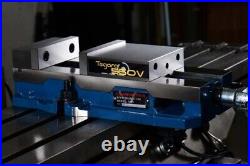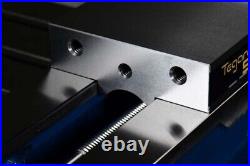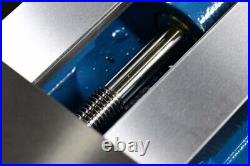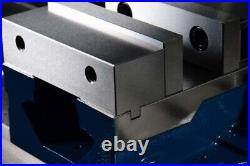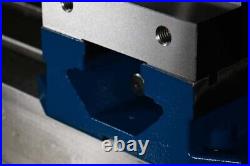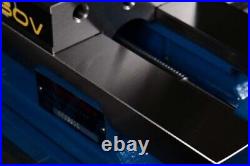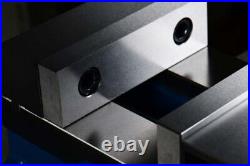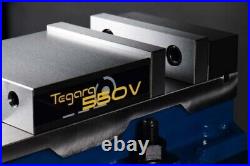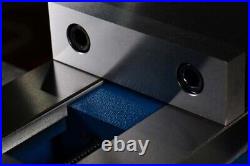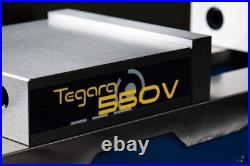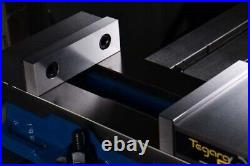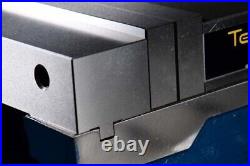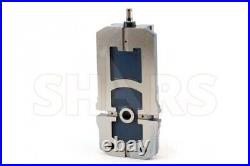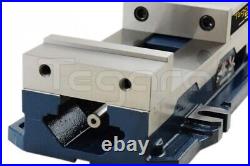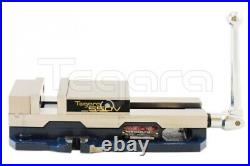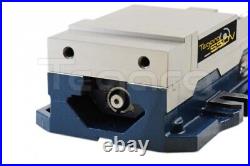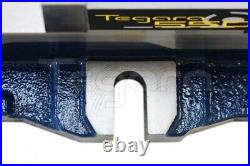 TEGARA 5" 550V CNC Premium Milling Vise 0.0004" NO SWIVEL BASE NEW. JAW PLATE THREADS SPACING (INCH). Tegara Milling Vise is built for taking punishment. Crank it all the way down and get the most out of the 8,000 Lbs clamping force. This battle-tested vise can stand up to the abuse of even in the most demanding machine shops. We use 80,000 PSI stress relieved ductile cast iron body (Material FCD60) to lay the foundation. Combined with 40+ years of manufacturing know-how and real-world application feedback, each vise body has gone through rigorous grinding process on the CNC grinder with micron accuracy. Critical component such as lead screw are also precision turned to achieve smooth but rigid movement. A gang of vise body gone through time consuming grinding process with micron accuracy on a CNC grinder. Each vise body will be put under the microscope to filter out unsatisfying cast iron bodies before assembling. Semi-hardened bright finished lead screws with precision turned threads to give them a solid & smooth feel when turning the vise handle. Every machinist is afraid of the term "jaw lift" when associated with a vise. The 550V offers key improvements to prevent jaw lifting by using a 45 degree wedge and a pivoting ground finished steel hemisphere in a milled pocket to hold down the movable jaw. This results a minimal amount of jaw lift applying under pressure when comparing to other highly regarded go-to branded vises. 7.01 Opening capacity allows more clamping in a small footprint.
Hardened Vise Bed / Jaw Plate. Vise jaw plate threads and spacing meets the industry standards - Bedways are flame hardened to 45 HRc and jaw plate hardened to 54 HRc - Bed height and the distance between keyway and stationary jaw remains the same and meets the industry standards - Bed height matched to 2.875" +/- 0.0005" - Vises' bed parallel to base within 0.0005" - Fixed Jaw perpendicular to bed within 0.0005" - Fixed jaw parallel to vise's keyway within +/- 0.0005. Continuing from the design feature in 690V vises, a brush on both end of spindle nut to wipe off chips to improve & extend the lead screw life.
2 large chip evacuation slots are strategically located on each side of the vise to allow a good flow of chips while at the same time not diminishing the vise's body strength. The vise body is also reinforced with a thicker rib to support the pulling mechanism when clamping.
When ordering multiple vises, the bed heights will be matched within. 0001 at no additional cost (subject to inventory stock availability). (The life of the product or part is defined as that point in time when such item no longer functions due to normal wear and tear). Vise Nut and Brush Pair.
Jaw Plate - One Pair. 2 pc of 5/8 T-slot Keys. Swivel Base for 550V 5 Milling Vise. 12.5" W x 8" H Polycarbonate Chip Guard for 5" & 6" Vise.