PRECISION-BILT STREAMLINER Vise No 191 SPIEGEL Swivel Base 3 1/2 Jaws Anvil USA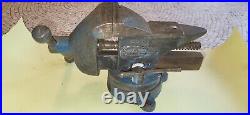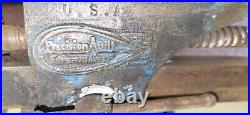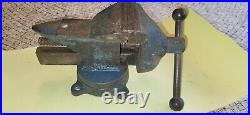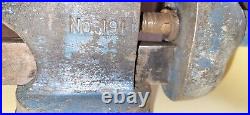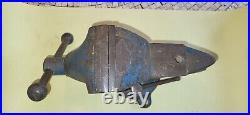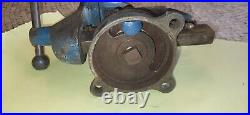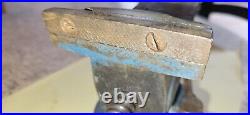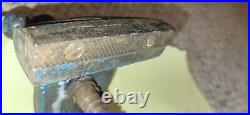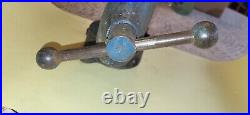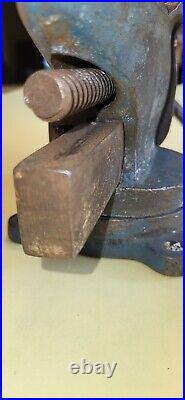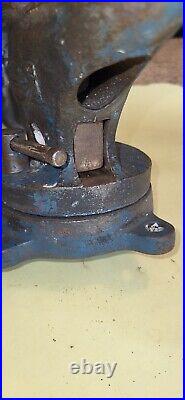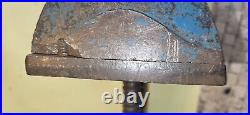 Vintage Spiegels Precision-Bilt Streamliner Vise No. 191 - 3 1/2 Jaws - Made in USA. Vintage swivel bench vise, branded as the Precision-Bilt Streamliner No. The vise is visually just about identical to the Littlestown No.
191, weighs in at 16.2#, 10 1/2" length in closed position and 6" height at jaws, opens 3 1/2" with dynamic jaw flush with rear of stationary jaw and the internal position of main screw approx even with the "A in USA - see picture #11.9 I believe this vise to be from the period 1940 -1960 based on model number, design and malleable iron material. Vise has been inspected closely and is in overall very good condition. Jaw moves freely, just a bit of a wobble. It appears the front collar and pin near the front of the screw has been replaced and a slightly thinner profile.
He jaw faces are original and are in good condition. The top right side edge of the stationary jaw has a shallow chip 3/4 length, see pic #12. The chip exposes one of the jaw face set screws 35%, but it still maintains good grip. This chip would be very well suited for a repair with an epoxy/metal based material with or without a threaded insert or just left alone - function isn't compromised. Other cracks or repairs noted.
Incomplete paint coverage, it had been repainted white over the original blue color. I removed most of the white for inspection and for it being a bad color and applied over old dirt and grime - bad adherence. Handle is original, 7 1/4 length. Please see all pictures for full condition details. Thank you for visiting and don't wait too long on this vintage Streamliner vise!